Monday Musings: Light Your Lips.
Hello lovely readers, I can't believe Monday has reared its manic head already and how can this day get worse? Oh yes, it's also Blue Monday! As it's the most depressing day of the year, tonight's Monday Musing is going to be extra quirky. Let's face it, it may be Blue Monday but it doesn't mean we're compelled to be miserable!
The news, both local and worldwide, has recently been filled with nothing but angst and tragedy. There are many stories that have truly pained us all. With this in mind, I decided to search about and find uplifting and somewhat amusing stories that have been hidden amongst the sad news lately.
Amusing | UKIP Councillor, David Silvester, Blames Storms and Floods on Gay Marriage
I don't speak of politics but when I heard about this, I was thrown into a full-blown laughing fit. When I read that 600, 000 "concerned Christians" signed a petition to prevent the legalization of gay marriage, I was both outraged and extremely amused. I may be a Christian, I may have been baptized, but I am a believer of all religions and I don't think it is right that religion has been used in such a disgraceful way. Whether there's a God or not (I'm still on the fence with that one), it doesn't mean it should be used in vain. It's ludicrous and utterly hilarious! This was a foot-in-mouth moment. "Gay marriage created the storms and floods," what next? A weather forecast predicting there will be homosexual hurricanes, lesbian snow and transgender tornadoes? Some people really need to remove that pole out of their keister.
Uplifting | Sean Coyle and His Brave Rescue
Animals are a thing close to my heart and when I stumbled upon this beautiful story, my heart warmed. Thirteen-year-old Siberian husky, Slyvie, had been playing with her owner when she unintentionally ran across a patch of ice covering Boston's Pleasure Bay and found herself falling through into the freezing water. Boston fire-fighter, Sean Coyle, came to the rescue and saved the shivering dog by crawling across in a rescue basket. Although he fell in himself, his main priority remained to save Sylvie. I commend Coyle and his courage and Sylvie for having the strength to hold for so long.
Amusing | A Delicious (literally) Wedding Gift
Natasha and Kieran Morris christened their entrance into marriage by getting a creative and having one another's face painted upon individual pizzas. What a bizarre gesture, right? Wrong. You see, ordering pizza from takeaway chain Domino's had almost become a tradition for Natasha and Kieran. It was a pastime they shared together and so, they felt this was something that needed to be incorporated into their special day. Simply genius!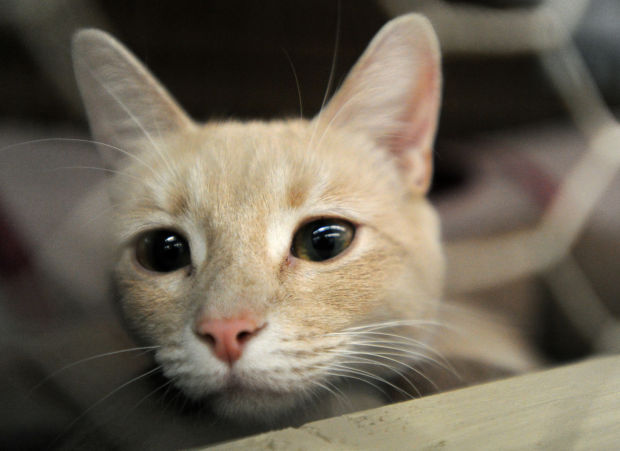 Uplifting | The Prison's Soft Spot
Now it's time for an "aww" moment. Four abandoned kittens found refuge in Great Meadow Correctional Facility by somehow sneaking in and have now captured every one of the inmates' heart. One of the inmates has even built a "kitten condo" for these four adorable felines. Doc, Meadow, Annie, and Comstock are being well looked after by both the staff and inmates of the New York prison and have finally found themselves a home.
So that's it for tonight. I very much hope I have dissolved your sadness and have lit your lips into a warm smile.
_____________________________________________________________________________